Events
There's a lot going on at CPC each day and each week — worship services, youth group, music rehearsals, a variety of small groups, special events, and opportunities to learn, grow, act, and serve.
Upcoming events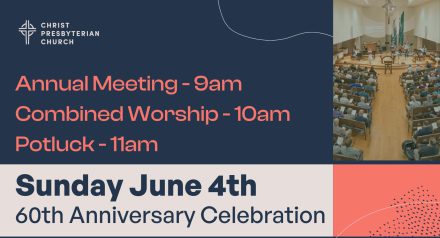 Worship
Annual Meeting
On June 4, the Annual Meeting of the congregation will be held, and a congregational vote will be taken for the purposes of electing officers. Next week, look for additional information outlining the Nominating Committee's nominations for Elders, Deacons, Nominating Committee, and Trustee. We will also elect a new Clerk of Session.


POTLUCK DETAILS:
No need to bring anything and please attend no matter if you do not have a dish to share.

People with a last name starting with A‑L are asked to bring a main dish. Those whose last name begins with M‑Z are asked to bring either a salad/​vegetable/​fruit dish.

Please mark your dish if it is gluten-free, vegetarian, or vegan if applicable.

If anyone would like to bring a dessert they may. There will be cake to celebrate our rededication.

Connections Commission will provide beverages.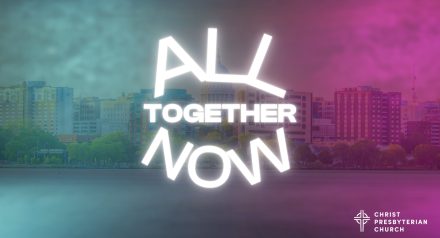 Worship
All Together Now — 
10

:

00

am Combined Worship

This is a special 10:00am Combined Worship Service
Worship
60

th Anniversary Rededication

It was on Palm Sunday, 1963 – April 7, to be exact – that the first worship service was held in this building where we have gathered, worshipped, learned, eaten, served, laughed, cried for the last 60 years.

This is the third church building Christ Presbyterian has occupied since the congregation was formed in 1851. The first church opened in 1853 on Wisconsin Avenue where the Masonic Temple now stands. The second church was completed in 1892 where the Concourse Hotel now stands. That one served us for 71 years until our current building was completed.

This building has undergone two major renovations since it opened and has been the place where so many people have had their children baptized, their marriages celebrated, their lives remembered.

On Sunday, June 4, we will rededicate this building during a combined worship service at 10am, paralleling the original dedication service in June of 1963. We give thanks to God for all we have been able to do in this beautiful space.
Our Facilities
CPC is an active place, and is also available for requested rental and use by the community.
LEARN MORE